BarVino
204 East High St Jefferson City MO, 65101
Hours
Tuesday - Saturday 12noon - Close
BarWhiskey
112 East High Street Jefferson City, MO 65101
HOURS:
3-11pm Monday - Saturday
(573) 636-WINE (9463)
Dine-in/Carry Out/Catering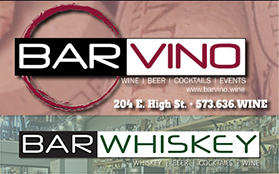 BarVino was created to be a fun, friendly, and safe place to enjoy drinks and small plates with family and friends. We think everyone should have a comfortable, clean place to briefly get away from the grind of life. No commercials, no advertising, no TVs overtaking your conversation. If you need a break from loud over crowed chain restaurants, your in-laws, your kids, or from co-workers, BarVino is the place to get away.
BarVino is a very simple name. The two parts say it all. It is a bar and we are focused on VINO. Focused on wine but we also provide hand crafted cocktails and a large beer selection. We really enjoy delicious wine and delicious wine is always better with the right accompaniments So of course we also serve small plates and appetizers that are meant to be shared around your table. Wine and food together have a magically ability to keep friends and family together for longer. We hope that this combination can be enjoyed at our place so you time together can be even more carefree and memorable.                        
Facebook: barvinowine
Specialties: Wine, Cocktails, Craft Beer, and Small Plates
200+ different wine selections, Eight Beers On-Tap, Expansive Bourbon and Scotch Collection / Yes
Our Menu