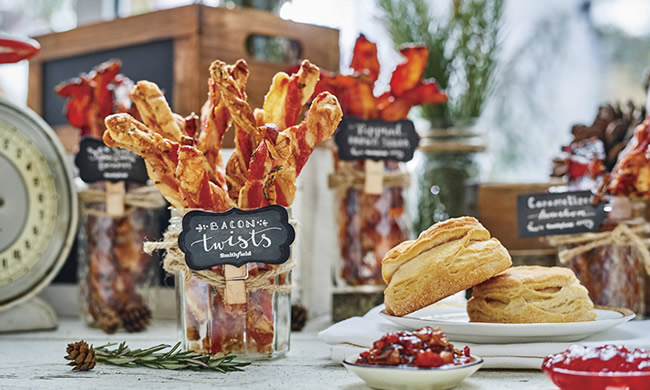 (Family Features) New Year's Day is the ultimate moment for connecting with friends and family to start 2017 off right, so treat them to something special with a mouthwatering feast. Add a new and delicious twist to entertaining with a celebratory bacon bar.
Mix things up with these easy-to-make – and even easier to eat – bacon recipes from Smithfield that can help create the perfect setting for your New Year's gathering. Whether twisted with puff pastry or baked with bourbon and maple syrup, your guests can enjoy bacon in a variety of ways. The classic cut and versatility of Smithfield Hometown Original Bacon is ideal for the variety of dishes you can include in your bacon bar. You can also incorporate different bacon flavors; with more than 10 different Smithfield varieties to choose from, there truly is something for everyone.
Complete your spread with printed labels that identify the variety of bacon flavors, unique recipes and side dishes on display. Simply print templates onto thick card stock and cut to your desired shape. Use twine or other decor to tie the labels onto mason jars, bowls or baskets, or use a small clothespin to clip the labels onto your bacon creations.
Visit Smithfield.com/BaconBar for printable labels, more decor ideas and recipe inspiration to give your own bacon bar a personal touch.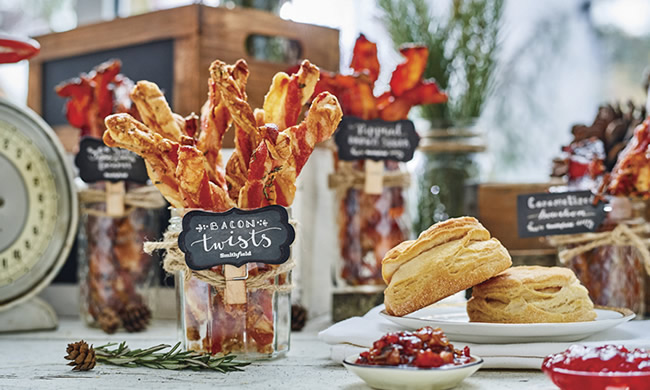 Crispy Bacon Twists with Gouda and Apricot Preserves
Cook time: 45 minutes
Serves: 15
Nonstick spray
flour, for dusting
1 package (2 sheets) frozen puff pastry dough, thawed
1 egg, beaten
1 cup (12 ounces) apricot preserves
2 cups (about 7 ounces) Gouda cheese, shredded
2 tablespoons chopped fresh rosemary leaves
2 pounds (about 25-30 slices) Smithfield Hometown Original Bacon
Heat oven to 375 F. Line two rimmed baking pans with foil, set baking racks in pans and lightly spray racks with nonstick spray.
On lightly floured surface, roll out one puff pastry sheet to roughly 8-by-12 inches. Brush top with egg and thinly spread 1/2 cup preserves over dough. Sprinkle evenly with 1 cup shredded cheese and 1 tablespoon rosemary, lightly pressing cheese mixture into dough. Fold short end of dough over to enclose cheese mixture and lightly roll to seal. Cut into 15 1/2-inch strips. Repeat with remaining puff pastry and ingredients.
Lay one slice bacon diagonally. Grab one strip of prepared dough by ends and place one end of dough strip horizontally at top end of bacon and roll bacon with dough downward, stretching dough strip while rolling. Place spiral-wrapped bacon twist on prepared rack and repeat.
Bake twists 35-45 minutes, or until pastry is browned and bacon crisp, rotating pans as needed for even cooking.
Let cool 5 minutes and gently use spatula to remove twists from racks. Serve warm or at room temperature.
Tip: For a different flavor, try smoked or aged Gouda or fresh thyme instead of rosemary.

Caramelized Bourbon Bacon
Cook time: 30 minutes
Serves: 12
2 packages (16 ounces each) Smithfield Thick Cut Bacon
4 tablespoons honey
1/2 cup bourbon
4 tablespoons maple syrup
Heat oven to 375 F. Line two baking pans with parchment paper.
Remove bacon from package and space evenly on pans without overlapping slices.
Place pans in oven and bake 15 minutes. Rotate pans halfway through baking time. Meanwhile, combine honey, bourbon and syrup.
Remove bacon from oven. Carefully drain grease from pans. Brush bacon with bourbon mixture. Return to oven and bake 3-5 minutes. Let cool slightly and serve.