Welcome to the Capitol City of Missouri!



Selected as "America's Most Beautiful Small Town" (by Rand McNally), Jefferson City is full of exciting activities for the entire family! Whether visiting historic sights, attending legislative sessions, participating in convention seminars or just shopping, this Capitol City has it all!

So, after a busy and exciting day, it's time to relax and enjoy a delicious meal in one of the city's locally owned dining establishments.

Capitol City Dining is designed to assist you in finding the perfect location for your dining, entertainment or shopping experience. Capitol City Dining includes menus that outline entrees and prices to fit your appetite and budget. It also includes fun things to do or services you may need while in the Capitol City.
 On behalf of Capitol City Dining Restaurateurs, I would like to extend a personal invitation to the locally owned restaurant of your choice. Have an enjoyable dining experience.

Yours Truly,

Vicki Arcobasso
Editor - Capitol City Dining & Entertainment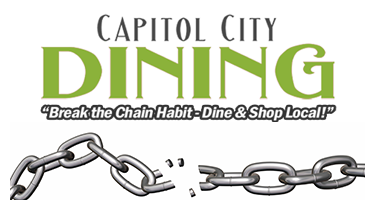 We want to be a constant reminder to your customers to Dine Local! It is up to us as Restaurantuers to make our customers aware of their choices when dining out.